Finding similar documents with Word2Vec and WMD¶
Word Mover's Distance is a promising new tool in machine learning that allows us to submit a query and return the most relevant documents. For example, in a blog post OpenTable use WMD on restaurant reviews. Using this approach, they are able to mine different aspects of the reviews. In part 2 of this tutorial, we show how you can use Gensim's WmdSimilarity to do something similar to what OpenTable did. In part 1 shows how you can compute the WMD distance between two documents using wmdistance. Part 1 is optional if you want use WmdSimilarity, but is also useful in it's own merit.
First, however, we go through the basics of what WMD is.
Word Mover's Distance basics¶
WMD is a method that allows us to assess the "distance" between two documents in a meaningful way, even when they have no words in common. It uses word2vec [4] vector embeddings of words. It been shown to outperform many of the state-of-the-art methods in k-nearest neighbors classification [3].
WMD is illustrated below for two very similar sentences (illustration taken from Vlad Niculae's blog). The sentences have no words in common, but by matching the relevant words, WMD is able to accurately measure the (dis)similarity between the two sentences. The method also uses the bag-of-words representation of the documents (simply put, the word's frequencies in the documents), noted as $d$ in the figure below. The intution behind the method is that we find the minimum "traveling distance" between documents, in other words the most efficient way to "move" the distribution of document 1 to the distribution of document 2.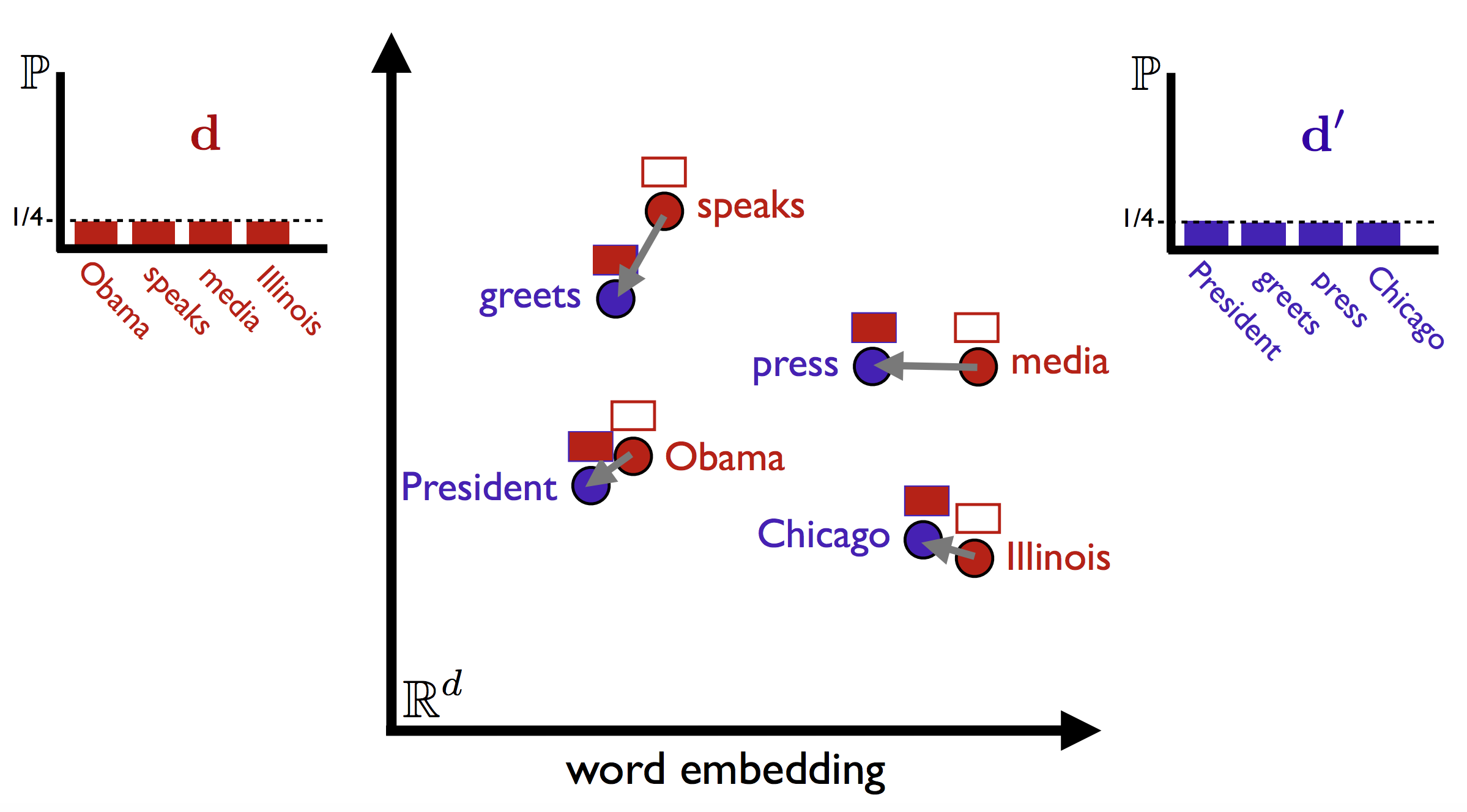 This method was introduced in the article "From Word Embeddings To Document Distances" by Matt Kusner et al. (link to PDF). It is inspired by the "Earth Mover's Distance", and employs a solver of the "transportation problem".
In this tutorial, we will learn how to use Gensim's WMD functionality, which consists of the wmdistance method for distance computation, and the WmdSimilarity class for corpus based similarity queries.
Note:

If you use this software, please consider citing [1], [2] and [3].
Running this notebook¶
You can download this iPython Notebook, and run it on your own computer, provided you have installed Gensim, PyEMD, NLTK, and downloaded the necessary data.
The notebook was run on an Ubuntu machine with an Intel core i7-4770 CPU 3.40GHz (8 cores) and 32 GB memory. Running the entire notebook on this machine takes about 3 minutes.
Part 1: Computing the Word Mover's Distance¶
To use WMD, we need some word embeddings first of all. You could train a word2vec (see tutorial here) model on some corpus, but we will start by downloading some pre-trained word2vec embeddings. Download the GoogleNews-vectors-negative300.bin.gz embeddings here (warning: 1.5 GB, file is not needed for part 2). Training your own embeddings can be beneficial, but to simplify this tutorial, we will be using pre-trained embeddings at first.
Let's take some sentences to compute the distance between.